…
PACKS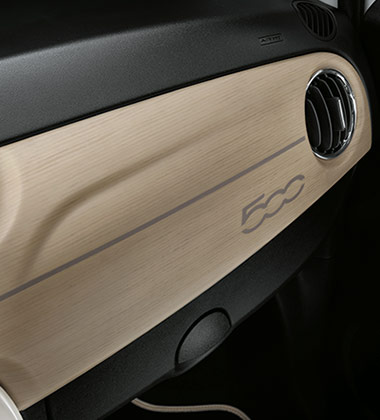 DASHBOARD IN NAUTICAL WOOD
The most iconic Dolcevita style right in front of you, during every journey.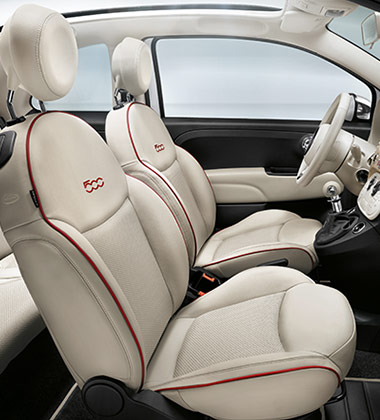 SEATS IN FRAU LEATHER AND WICKER-LIKE CENTRAL
Seats inspired by the sunbeds of the most prestigious beaches, with wicker-like central in techno fabric: more Dolcevita than ever.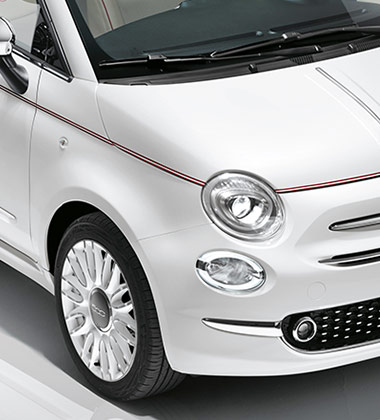 RED/WHITE/RED ALL AROUND LINER
A further touch of style enhancing the exterior silhouette, like a sunset on the horizon.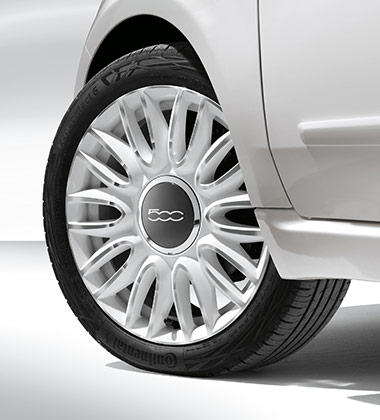 16" WHITE PAINTED ALLOY WHEELS
Always drive at the top of your idea of elegance.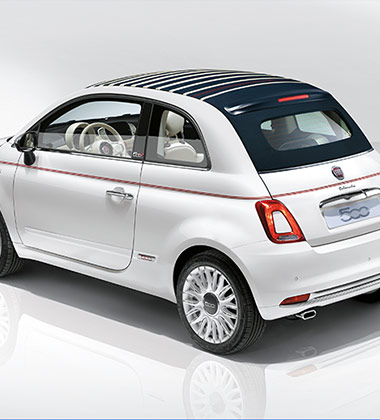 BLUE AND WHITE STRIPED ROOF
Dolcevita is in the air, with the exclusive style featuring blue and white striped roof.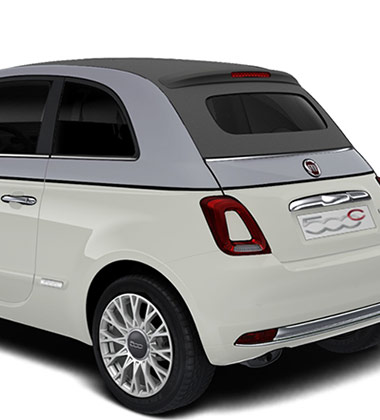 ENJOY THE VIEW
The Glass Roof offers you the view on the sky above and as much fresh air as you'd like thanks to the electric opening.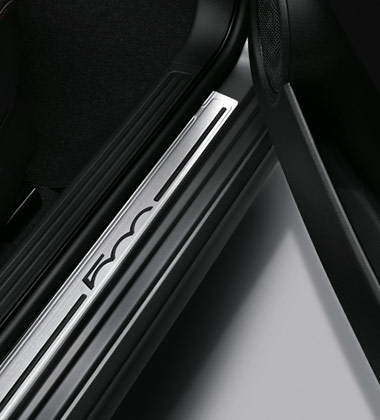 KICKPLATE
One more touch of style to sign the look of the car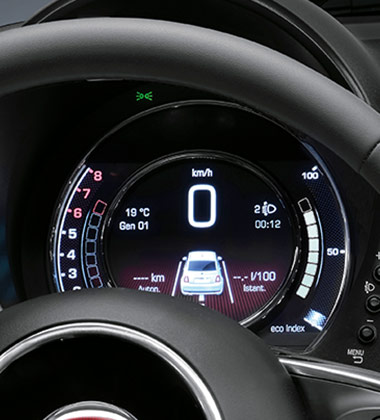 EVERYTHING IN VIEW
Control all you need to know about your routes and the battery level of the hybrid engine on the 7" TFT display.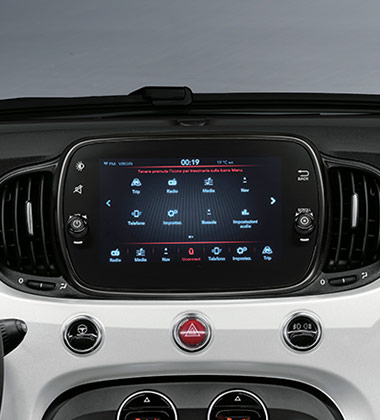 RADIO 7" NAV DAB
Navigate and enjoy your favorite music with the high definition of Digital Audio Broadcasting.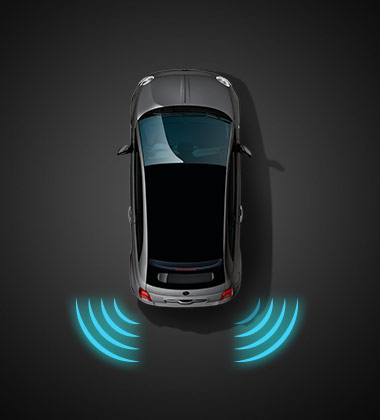 ALL EYES ON YOUR PARKING SPOT
Sensors placed on the rear of the car detect any obstacles around the vehicle alerting the driver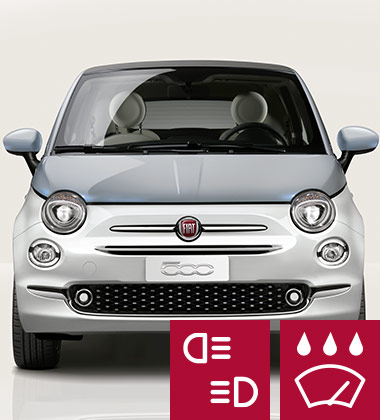 RAIN & DUSK SENSOR
Don't let the weather, or the light, bother you: the Dusk and Rain sensor will detect the change in light and switch on the lights automatically; it will also turn on wipers in case of rain.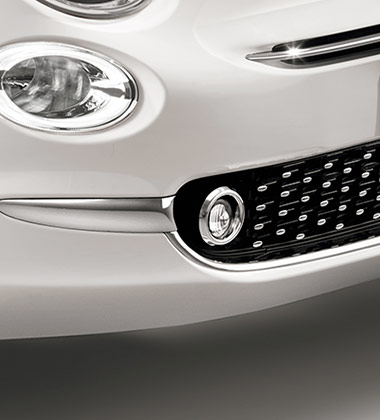 FOG LIGHT
A further touch of personality for the front of your 500C Dolcevita.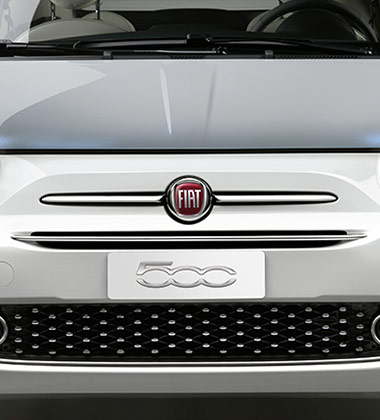 CHROME BONNET LINE
Add one more shiny detail to the front of your city car.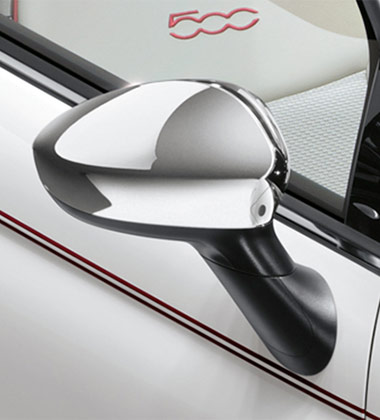 CHROME MIRRORS
Dolcevita shows its brighter side with the chrome mirrors, enhancing its look.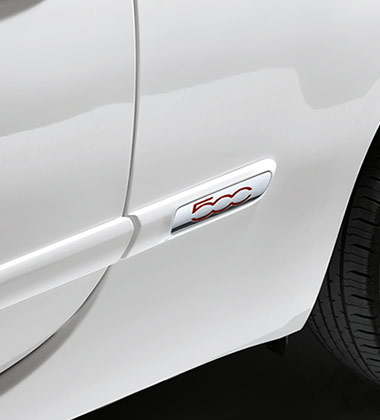 SIDE MOULDING
Add an even more unique detail, with the exclusive side moulding with 500 logo.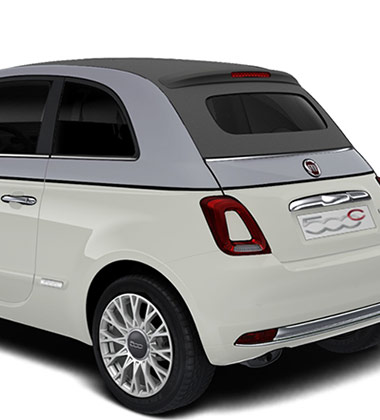 PRIVACY GLASS
Block 99% of UV rays from entering your 500C Dolcevita: reduce heat inside your car and save energy by using less air conditioning.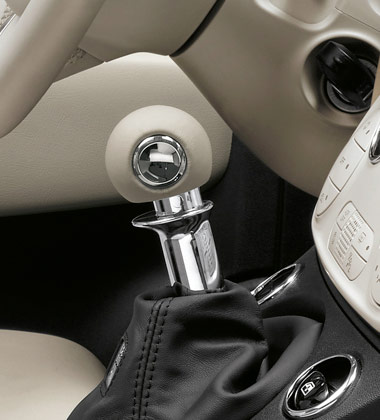 LEATHER GEAR KNOB
For a more sophisticated touch: the leather gear knob highlights the premium feeling of the interior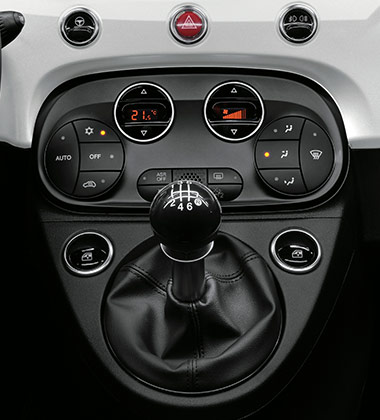 AUTO A/C
Select your ideal temperature, the automatic Air Conditioning will create the perfect environment for your journey.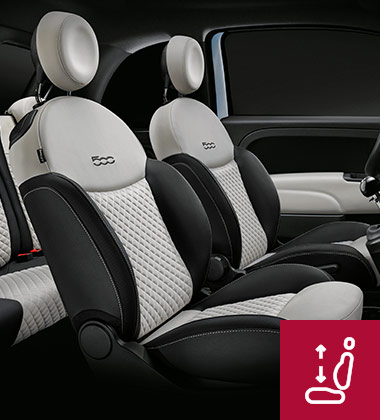 HEIGHT ADJUSTABLE SEAT
Set the height of your seat and drive in full comfort.
MIRRORS WITH DEFROST
Side mirrors with automatic defrost, ready to face every season.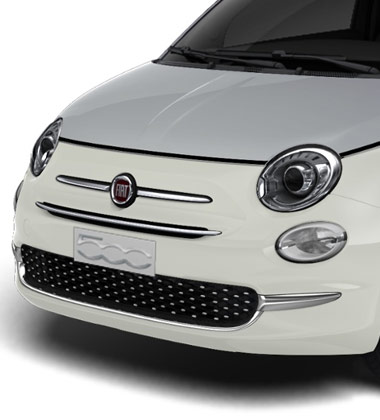 XENON HEADLAMP
Advanced visibility on the road ahead of you, thanks to the power of Xenon Headlamps.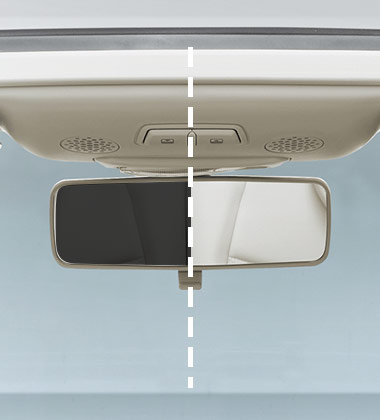 ELECTROCHROMIC MIRROR
The electrochromic rearview mirror automatically dims when it senses light from behind the car, reducing glare keeping you focused on the road ahead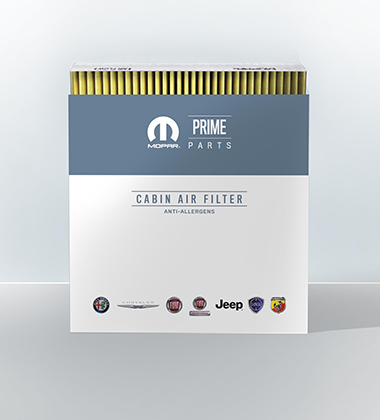 MOPAR PRIME CABIN FILTER
Carbon activated filters with an additional treatment based on Polyphenol able to:

• Block particulate matter almost completely (PM2.5)
• Trap almost 100% of allergens
• Reduce the growth of moulds and bacteria by more than 98%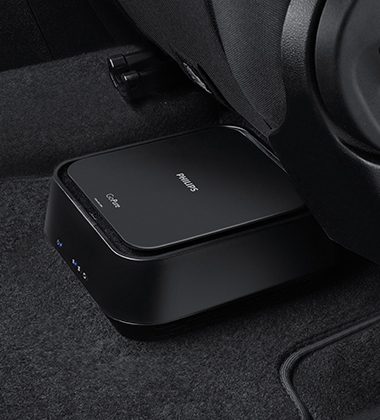 AIR PURIFIER
It is a portable device suggested by MOPAR and manufactured by Philips, with an integrated HEPA filter that:

• Filters even fine particles, such as PM 2.5. Not only does it remove harmful particles, but also cigarette smoke and dust
• Eliminate toxic gases and car exhaust fumes quickly
• Removes up to 98% of airborne bacteria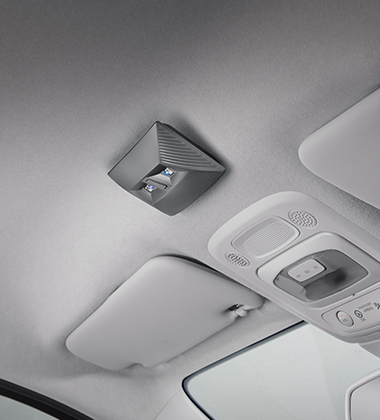 UV-C CLEANER
It is a plug&play device suggested by MOPAR and manufactured by Yanfeng which irradiates the interior surfaces of a vehicle with a UV light helping to:

• Sanitise the vehicle interiors (seats, dashboard, steering wheels, gearknob) in few minutes
• Remove up to 99% of bacteria present on surfaces
PACKS

DASHBOARD IN NAUTICAL WOOD

The most iconic Dolcevita style right in front of you, during every journey.

SEATS IN FRAU LEATHER AND WICKER-LIKE CENTRAL

Seats inspired by the sunbeds of the most prestigious beaches, with wicker-like central in techno fabric: more Dolcevita than ever.

RED/WHITE/RED ALL AROUND LINER

A further touch of style enhancing the exterior silhouette, like a sunset on the horizon.

16" WHITE PAINTED ALLOY WHEELS

Always drive at the top of your idea of elegance.

BLUE AND WHITE STRIPED ROOF

Dolcevita is in the air, with the exclusive style featuring blue and white striped roof.

ENJOY THE VIEW

The Glass Roof offers you the view on the sky above and as much fresh air as you'd like thanks to the electric opening.

KICKPLATE

One more touch of style to sign the look of the car

EVERYTHING IN VIEW

Control all you need to know about your routes and the battery level of the hybrid engine on the 7" TFT display.

RADIO 7" NAV DAB

Navigate and enjoy your favorite music with the high definition of Digital Audio Broadcasting.

ALL EYES ON YOUR PARKING SPOT

Sensors placed on the rear of the car detect any obstacles around the vehicle alerting the driver

RAIN & DUSK SENSOR

Don't let the weather, or the light, bother you: the Dusk and Rain sensor will detect the change in light and switch on the lights automatically; it will also turn on wipers in case of rain.

FOG LIGHT

A further touch of personality for the front of your 500C Dolcevita.

CHROME BONNET LINE

Add one more shiny detail to the front of your city car.

CHROME MIRRORS

Dolcevita shows its brighter side with the chrome mirrors, enhancing its look.

SIDE MOULDING

Add an even more unique detail, with the exclusive side moulding with 500 logo.

PRIVACY GLASS

Block 99% of UV rays from entering your 500C Dolcevita: reduce heat inside your car and save energy by using less air conditioning.

LEATHER GEAR KNOB

For a more sophisticated touch: the leather gear knob highlights the premium feeling of the interior

AUTO A/C

Select your ideal temperature, the automatic Air Conditioning will create the perfect environment for your journey.

HEIGHT ADJUSTABLE SEAT

Set the height of your seat and drive in full comfort.

MIRRORS WITH DEFROST

Side mirrors with automatic defrost, ready to face every season.

XENON HEADLAMP

Advanced visibility on the road ahead of you, thanks to the power of Xenon Headlamps.

ELECTROCHROMIC MIRROR

The electrochromic rearview mirror automatically dims when it senses light from behind the car, reducing glare keeping you focused on the road ahead

MOPAR PRIME CABIN FILTER

Carbon activated filters with an additional treatment based on Polyphenol able to:

• Block particulate matter almost completely (PM2.5)
• Trap almost 100% of allergens
• Reduce the growth of moulds and bacteria by more than 98%

AIR PURIFIER

It is a portable device suggested by MOPAR and manufactured by Philips, with an integrated HEPA filter that:

• Filters even fine particles, such as PM 2.5. Not only does it remove harmful particles, but also cigarette smoke and dust
• Eliminate toxic gases and car exhaust fumes quickly
• Removes up to 98% of airborne bacteria


UV-C CLEANER

It is a plug&play device suggested by MOPAR and manufactured by Yanfeng which irradiates the interior surfaces of a vehicle with a UV light helping to:

• Sanitise the vehicle interiors (seats, dashboard, steering wheels, gearknob) in few minutes
• Remove up to 99% of bacteria present on surfaces